5 tips to rock your Christmas decoration !
This year, you are the one who is hosting for the holidays. Whether it's Christmas or New Year's Eve, it's the best time to let your personality speak for itself by composing a decoration that only looks like you. Opt for these five trendy tips for an offbeat and innovative setting:
Tip number 1: Dare bold colors for an amazing Christmas tablecloth!
There's nothing like setting a table that will surprise your guests. The tablecloth "Féerie" in its onyx color modernizes the spirit of the holidays by associating gold with black. Set your table with shiny cutlery and your Christmas tablecloth will be the center of all discussions!

Tip number 2: Pay attention to details for a surprising New Year's Day
Mix the decorative elements, figurines, fruits or arrange small glitter randomly on your table. They will surely draw the eye to the most beautiful of your tablecloths. For example, opt for the "Starry Night" tablecloth in its blue color and its matching napkins to shake up the traditional Christmas codes. Combined with small white or silver decorative elements, it will make the most beautiful effect on your dining room table.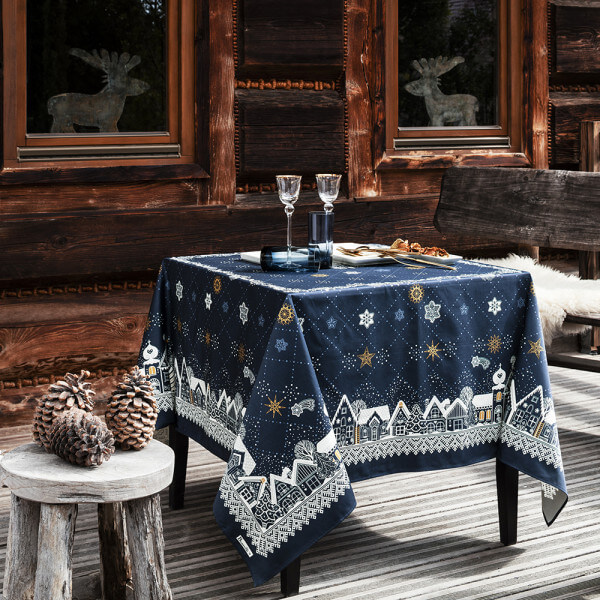 Tip number 3: Revisit the classics for a high-end Christmas table
For a refined and contemporary table, use placemats instead of a tablecloth. More discreet, they give pride of place to a modern and chic decoration, by betting on a tableware and a centerpiece matching your table linen. For example, opt for the "Palazzo" placemats in their three colors of frost, red or brown, to be combined with a light and shiny decoration.