Inspired by Beauvillé, Episode 3 : How about a Black Christmas ?
It's black's turn to make an appearance in your Christmas decoration : Discover all our tips to set your festive table with a color that's as bold as it is unexpected.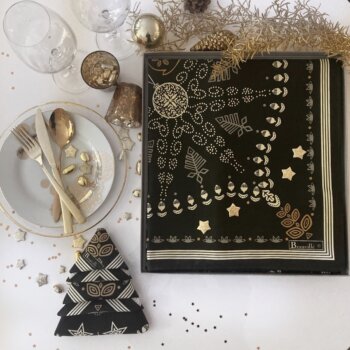 STEP 1: Choose a tablecloth with festive details
If you want to surprise your guests, dare to use black for your table setting. To celebrate the holidays, we suggest our Féerie onyx and Megève anthracit tablecloths: the modern details of these two models will instantly brighten up your home decor.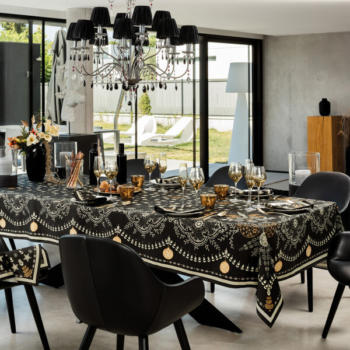 STEP 2: Create a chic and sophisticated table decoration
The napkin brings a touch of elegance worthy of the great starred restaurants to your decoration. Set your table by coordinating your tablecloth and napkins or opt for our two-tone napkins for a sober but sophisticated effect! For even more chic, surround them with a jewel-like napkin ring in gold or silver.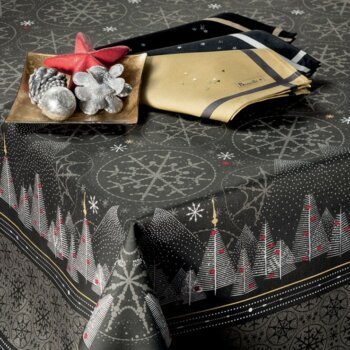 STEP 3: Create a warm Christmas atmosphere
Bring warmth to your table decorations by adding tinted glasses or candle holders. You can also create a centerpiece of pinecones and copper-colored chestnuts on a large gold or silver dish. Our tip? To add a glittery effect to your decoration, scatter star or diamond-shaped glitter all over your tabletop.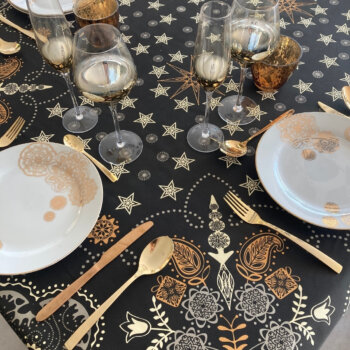 Tip of the week:
To make your parties unforgettable, use accessories with elegance! For example, you can opt for a superposition of gold and white plates to give relief to your table setting.
Did you like this article? You can also find all our tips for setting a traditional festive table as well as our inspirations for inviting the Scandinavian spirit into your home. Visit our blog!