Let's create the most enchanting tablecenter for Christmas !
Every year in December, you have to face the same routine : create a magical, original and practical Christmas table, THE table that everyone will remember ? In addition of every concerns you may have with the food, you have to ensure the decoration of the festive table, the place where most of the festivities will take place – ex aequo with the foot of the Christmas tree for those who are more sensitive to gifts ! In addition to the crockery and table linen that you will have to choose carefully, all your attention will have to be focused on the star of the table: an original centerpiece. Here are a few tips to create a centerpiece in your image !
1. A customized centerpiece :
If its style obviously depends on your tastes, the size of your centerpiece depends on its format. A centerpiece will not be the same for a round table as a rectangular or square table on which you will come to decorate the center of the table over its entire length. Also, it will have to be an extension of the style of the tableware and will be best associated with the table linen. Finally, never lose sight of the fact that your centerpiece should be visible but should not take up all the space on the table that will see the dishes scroll all evening ! For small tables, you will have to bet on a centerpiece of reasonable size so that the dishes can have space on the table and the guests can discuss freely without being hindered by a centerpiece too imposing.
2. For lovers of tradition, bet on the classics :
Do you want to stay in the Christmas atmosphere ? Choose a festive decor with a festive spirit while playing the originality card: golden Christmas balls, holly leaves, glitter sprinkled in the center of the table, candles in the shape of a Christmas tree…

3. For green lovers :
If you have a green thumb, express it on your festive table and enjoy a trip to the forest (for city dwellers, a trip to the florist will also work very well !) to find pine cones, fir branches, holly branches that you will come to place in the center of your table and accessorize with Christmas ornaments or elegant candleholders.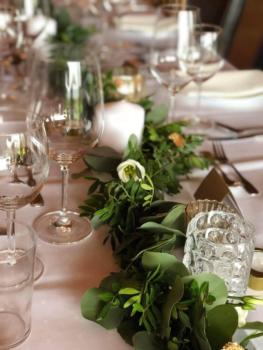 4. Our last tips :
Your table center has to be adapted to the size and shape of the table. On a round table, we concentrate the elements in the middle and we prefer a rounded composition, for more harmony. A rectangular table ? The center of the table lengthens to become an elegant table runner or is multiplied in small touches.
This festive decoration should not bother the people at the table. You should therefore avoid very large flowers that would prevent you from talking to your neighbor across the table or imposing arrangements that leave little room for Christmas dishes. One mixes esthetism and comfort !
You can also find our selection of Christmas tablecloths on the e-shop : https://www.beauville.com/shop/fr/43-nappes-de-noel