Inspired by Beauvillé, Episode 1 : Bring a Scandinavian Atmosphere to your Christmas Decor
This week, an atmosphere coming from the Great North blows on the decoration. Discover all our tips for creating a festive universe in shades of blue and white: follow the Scandinavian trend!
STEP 1: Choose a tablecloth with magic details
If you want to revisit Christmas classics while bringing a magical touch to your home, we suggest the blue Nuit Étoilée tablecloth to dress up your table: its graphic details and snow-covered houses will transport you directly into a magical setting.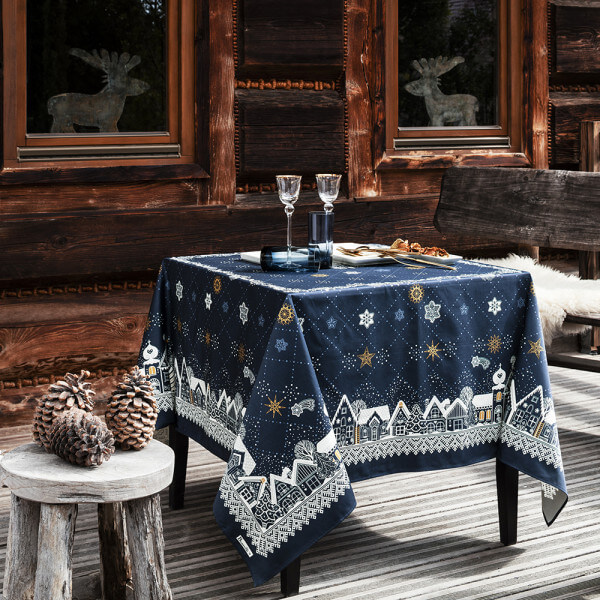 STEP 2: Create a Scandinavian-style decoration
Set your table with white or clear tableware, silver cutlery and elegant crystal glasses. Surround our two-tone white/night napkins with an iridescent napkin ring and place them delicately on your plates.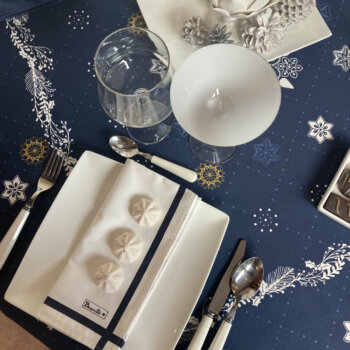 STEP 3: Create a soft, warm atmosphere
For an assured Nordic atmosphere, multiply the cushions and plaids on your seats and warm up the atmosphere with string lights. Scatter a few wooden details and small candles on your table for a cosy effect!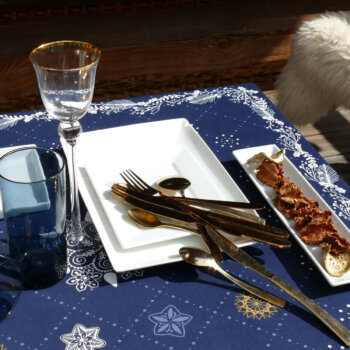 STEP 4: Extend the cozy effect in the kitchen
The Scandinavian spirit also extends to the kitchen with our winter patterned tea towels. For example, you can coordinate your table decorations with your kitchen linens with the blue Nuit Féerique tea towel, or choose one of our other Christmas tea towels such as our A la Montagne tea towel.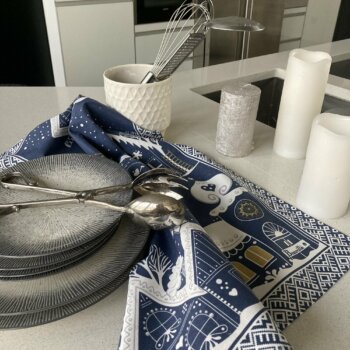 Tip of the week:
During this festive season, family meals are all about conviviality and good food. Don't hesitate to add a few sweets to your table: in addition to bringing a touch of originality to your decoration, they will delight young and old!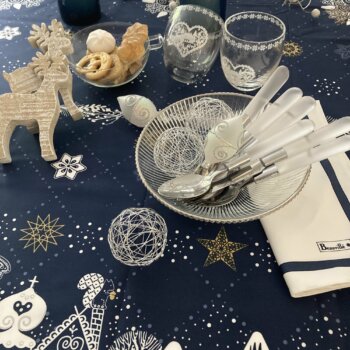 Did you like this article? Join us every Friday until Christmas to discover all our holiday decorating ideas!